There, 2000
The Greeks saw the future as something that came upon them from behind their backs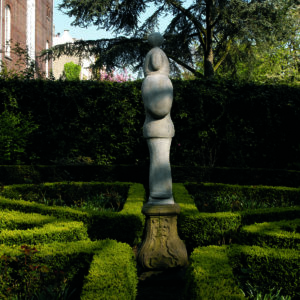 Sculpture. Various locations.
A man and a child look upon the horizon; when viewed from the front, one sees the back again.
Granite, 220 x 75 x 45 cm
Quartz, resin, 180 x 60 x 36 cm
Collections:
Museum van Loon, Amsterdam, The Netherlands
Herzliya Museum of Contemporary Art, Israel
Jingan Temple Sculpture Garden, Shanghai, China
Private collections: Geneva, Brussels, Antwerp.